I once read, in the context of Facebook's declining organic reach, that one should "never build a house on rented land." The author's point was that you cannot rely on any one channel to connect with customers and prospects, and to take it even further, you should avoid relying on channels that don't belong to you as your primary point of communication.
Depending on a channel like Facebook is easy to do, in part because it's so easy. It's easy to post photo albums. It's easy to create events. It's easy to share, comment, like, and otherwise engage.
It's also easy to forget that your Facebook Page, as well as your Twitter, Instagram, and Google+ accounts could disappear tomorrow – and with it all of your content and good efforts.
That's why it's important to protect your base – aka your website.
"Building on rented land" is a mistake I found myself making last year with my husband's business – and one I find myself fighting whenever he is tempted to "throw something on Facebook."
Using a recent example, I showed him why I'd prefer he "throw something on the website," and then share it through the other channels:

As you can see, his post about the new Focus Road bike reached 67 users.
If we had only shared it there, that is where the activity would have ended. But instead, by posting it to his website, we opened up opportunities for additional traffic from channels including Google and Twitter, as well as a referral from Focus Bikes. We have also cued up content for additional, or repeated usage, as for an email newsletter.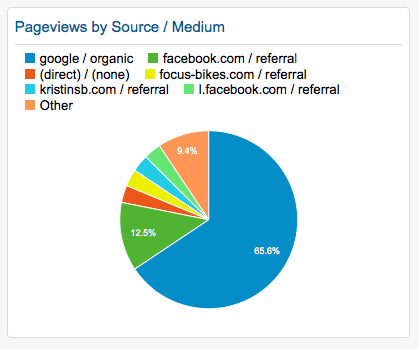 Today, the mantra for his site (and for all our clients), to quote Meghan Trainor, is "it's all about that base," meaning:
Content will, with a few exceptions, not be created for a specific channel
Content will, whenever possible, live on the primary website
Content will be shared consistently on all available social channels
Social channels will drive traffic back to the primary website, not to other social channels unless deemed appropriate
Photos and events posted to channels such a Facebook will include links back to the primary website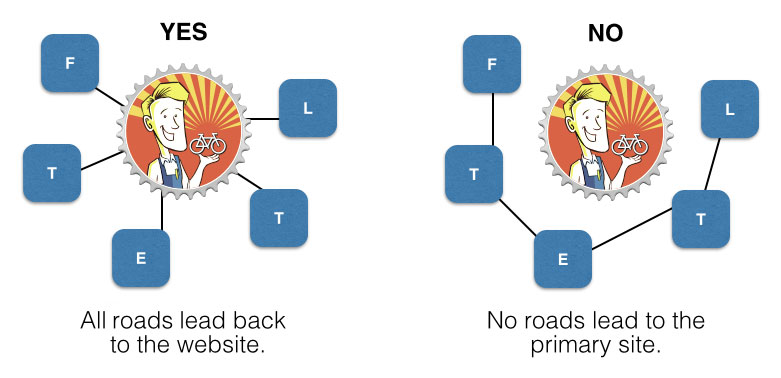 Originally published April 29, 2015